New Studio Album + Tour
Jul/24/2013

Whats up Signal Path Family!
While you've been out enjoying this glorious summertime weather, we've been in the shed making brand new music for your ears in a major way. Fresh from our surreal Redrocks performance, we've been in one of the most amazing studio's in Colorado we've ever seen. We can't wait for you to hear the new music- we've never done up an album like this one before and its going to be worth the wait…
We're also announcing our headlining fall tour and Colorado album release show. BLUEBIRD RELEASE SHOW TICKETS ARE ONSALE NOW! We have so many great things in store for you. These shows are not to be missed! Check out the
tour page
for details. Many more announcements and great news to share, so stay tuned in and we'll join together again soon!!!
Special Performance in Ft. Collins at Bohemian Nights Festival
Jul/21/2013



We are happy to announce our return to Bohemian Nights! Bohemian Nights at NewWestFest is a free, three-day music festival held the third weekend in August each year in historic Old Town Fort Collins. In its ninth year, Bohemian Nights 2013 will take place August 16th, 17th and 18th, and showcase 70+ Colorado bands.
Signal Path Performs at Red Rocks
Apr/09/2013



We are pretty excited to announce we will be performing at Redrocks for Global Dance 2013 on Friday July 19th.
TICKETS
GO ON SALE FRIDAY,  MARCH 22 AT 10AM!!!

This year's festival will feature three unique days that celebrate the fusion of electronic dance music with other genres and showcase the diverse array of talent in today's musical landscape. For the first time, Friday night will highlight artists that blend electronic music and live performance, including acclaimed world fusion act BEATS ANTIQUE and improvisational live electronic duo EOTO, as well as EMANCIPATOR, OTT, SIGNAL PATH, ZOOGMA, SORNE and more acts still to be announced.
Signal Path + Conspiritor + Boombox!
Feb/13/2013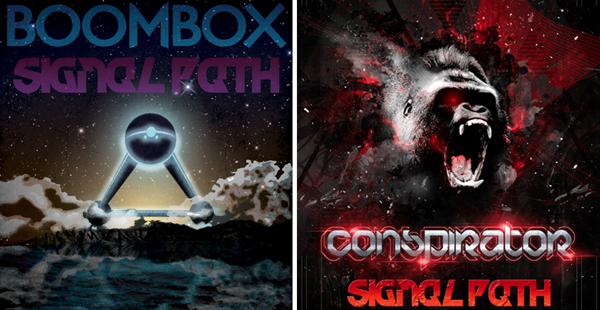 Friends! 

We write to you from the road on the way to St. Louis where our run with Boombox starts tonight!!  We absolutely can't wait to share the stage with some of our best friends in the scene this winter and see so many of you out at the shows.  Come join in the festivites as these will be nights of unforgettable live music!!
We're also announcing that we'll be playing throughout Colorado with Disco Biscuits' side project Conspirator.  This tour is going to be INSANE!!!  See below for more info as tickets will go fast!
With love, Damon, Ryan, Cody, & Matt
Signal Path hits the road with Boombox
Jan/23/2013

We are happy to announce our upcoming tour supporting Boombox on a string of Midwest shows. We've had some great experiences playing with these guys in the past including our recent concert at the Ogden Theatre in Denver, Colorado. In fact, it was so fun, we decided to do it about 8 more times. We've been having some amazing break-through rehearsals and working on our new album and can't wait to head back out to share some of our new moves with you! Check the tour page for details!