Signal Path to Play 13th Annual Gem and Jam
Dec/17/2012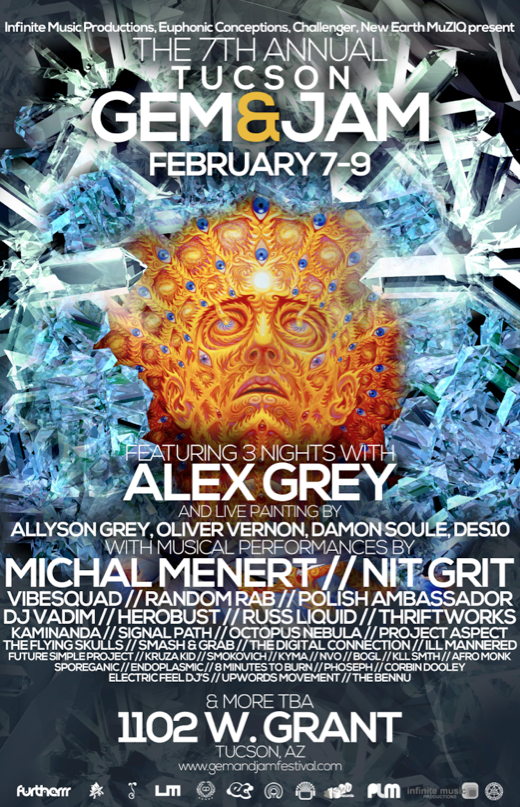 Infinite Music Productions, Euphonic Conceptions New Earth MUZiQ & Challenger Present **~> GEM & JAM 2013 <~** Feb 7 + 8 + 9 in Tucson, AZ @ 1102 W. GRANT the 7th annual TUSCON Gem and Jam Festival ! ** EARLY BIRD 3 DAY PASSES ON SALE NOW FOR ONLY $70 ** ** SPECIAL LIMITED TRAVEL PACKAGE AVAILABLE NOW ** $650 + VALUE FOR ONLY $460 ... SAVE $$ FOR GEMS AND PARTY Travel Package Includes: 3 nights hotel (2 person occupancy, $450+ Value) Two 3 Night Passes ($160+ value) Commemorative Poster & More!
BUY TICKETS
--------------------------------------------------------- THE 2012 GEM & JAM Featuring 3 Nights of Alex Grey & the Music Of: MICHAL MENERT (Pretty Lights Music) || NiT GRiT VibeSquad || RANDOM RAB || THE POLISH AMBASSADOR DJ VADIM || HeRobust || RUSS LIQUID || THRIFT WORKS KAMINANDA ||
SIGNAL PATH
|| And More!!! ~ Live Painting and lectures with Alex & Allyson Grey ~ ~ Art by Damon Soule, Oliver Vernon, Des10 ~
www.gemandjamfestival.com
Infinite Music Productions, Euphonic Conceptions, New Earth MUZiQ & Challenger presents the 7th annual TUSCON Gem and Jam Festival ! 3 nights of live music, gems, minerals, and art coinciding with the Tucson gem show. Gem and Jam will have two full stages of music, live performance painting, a Bazaar featuring gem, jewelry and art vendors, performances, and much more ! Integrating music, art, gems, minerals, and sustainability. This year's event features an outdoor and indoor stage, as well as its own gem and mineral showcase. The event will also be focused around sustainable living practices.
Signal Path Back In Colorado!!
Dec/03/2012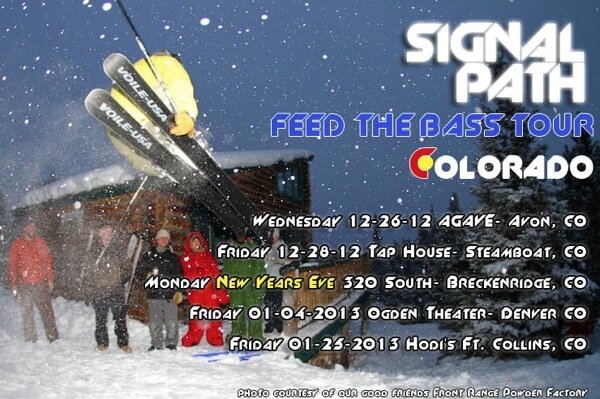 We are stoked to be back in the mountains of colorado to bring a very special Feed The Bass winter holiday run. Plus a very special New Years Eve event at Breckenridge's 320 South.
Buy your NYE tickets now!
There is a small amount of discounted tickets available for a limited time. Hope to see you soon!
Thanks to Casey Day and all our homies at Front Range Powder Factory for the dope pic!
Feed The Bass
Oct/22/2012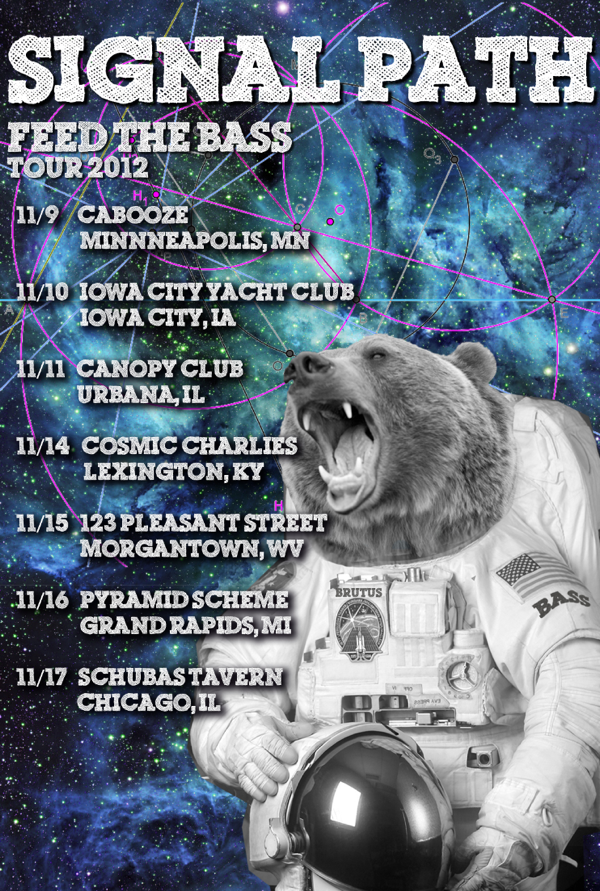 Signal Path + Mark Farina Halloween
Oct/02/2012
We are happy to announce we will be playing with Mark Farina on Halloween at Cervantes Masterpiece Ballroom along with Slick Rick and Ginger Perry. It will definitely be a night to remember. We are also vey excited to be headed back to the Midwest for a sizable tour through some of our favorite cities. We're looking forward to hitting the road and are gearing up for some great performances and debuting some brand new music.

Plus, New Years Eve in Breckenridge Colorado! Last year was such an amazing experience for us all we decided to do it again! Can't wait to bring in 2013 with you! Get your tickets early for this one as it will sell out. Thanks again to everyone for all your support and we hope to see you very soon.




Get your Path on at the Fox
Sep/20/2012
Whats up friends! Its been a minute since we played in Boulder and we're stoked to be playing the Fox Theater next week on Friday night! Heres a link if you wanna… buy your tickets now. Its going to be a special evening of music and we look forward to seeing you.

Fri Sep 9/28 Radio 1190 Presents
Signal Path w/ Air Dubai @ The Fox Theatre
Doors @8:00PM | 9:00 PM Show
$12 Pre-sale/$15 Day of show
BUY TICKETS

.:: BUS TO SHOW INFO ::.
http://bustoshow.org/?s=signal+path
Discounted cost per trial BTS membership!! $20 from Denver and $25 from Fort Collins!!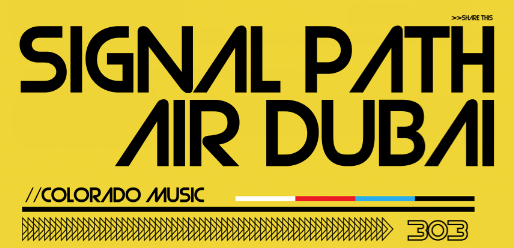 Introducing a Fourth Member to the Band & Colorado, Montana, Midwest Tours Plus a New Album
Sep/04/2012
Greetings once again! We've had an amazing time traveling the country and seeing a lot of you at some of our favorite summer festivals. We also (in case you missed it) added a fourth member to the SP lineup. We'd like to welcome longtime Signal Path collaborator, producer extraordinaire, keyboardist and our new 'CRO' (Chief Rowdifying Officer), Cody Wille. Cody has been working with us behind the scenes for 8 years and it feels wonderful to have such a good friend taking us from a trio to a full band again.    

This fall will be incredible as well ~ We're officially announcing that we'll be recording a new full length album in October, heading up to Montana, and (finally!) getting back to the Midwest. Plus a show at the Fox Theatre in Boulder, CO. Check the Tour Page for details.
Also, Check out this great fan recording from our set at Rootwire!  It's a free download!  

Welcome to the stage Cody!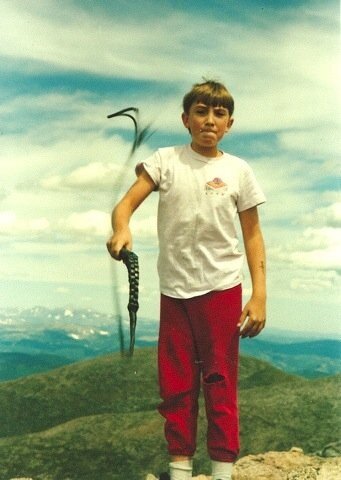 Amon Tobin + Signal Path
Aug/29/2012
We are honored to announce an exclusive late night show with Amon Tobin, one of our earliest influences.
This show will sell out very very soon so please get a ticket while you still can!
See you there!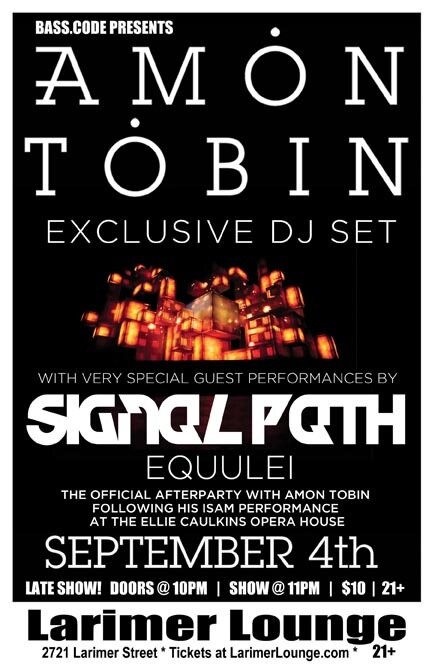 Signal Path returns to the land of the Grizzlies
Aug/20/2012
We are excited to be returning to where it all started: Missoula, Montana. Signal Path's "Land of the Grizzlies Tour 2012" will take us to Butte, Bozeman, and Missoula. Check the tour page for details. Thanks to everyone who came and supported our recent midwest run we had a blast playing with you guys. Rootwire was amazing! See you all very soon.

Also, we're starting to sell out of sizes of our limited edition Grass Roots California Wolf Hat so get your before they're gone on our Goods page!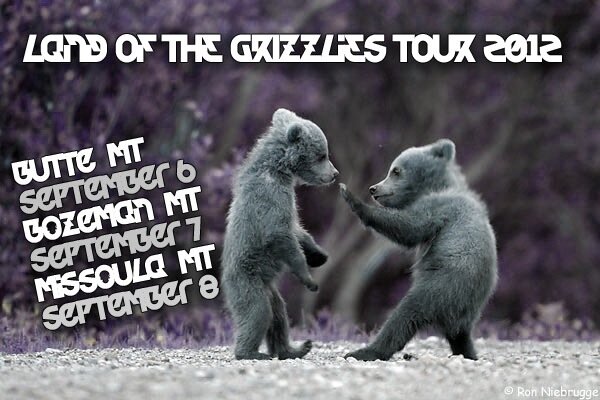 Signal Path With Michael Kang and Steve Molitz
Jul/30/2012
Hi guys, just wanted to let all our Colorado peeps know we will be doing a very special one time collaboration with Michael Kang from (String Cheese Incident) and Steve Molitz (Phil Lesh and Friends/Particle) this saturday August 4th. Its a late night VIP LoHi Music Festival after party at Highland Tap and Burger. Hope to see you there!
Buy Tickets


New Signal Path Video + Summer Tour
Jun/06/2012
We're thrilled to announce that we're premiering our brand new mini documentary TODAY on Denver's swaager.com & Hot 107.1 in conjunction with announcing our summer tour dates!  Click here or here to check out the new video featuring interviews and live footage we filmed a couple weeks ago in Denver!  Can't wait to see everyone!!
Summer Tour Announced
May/30/2012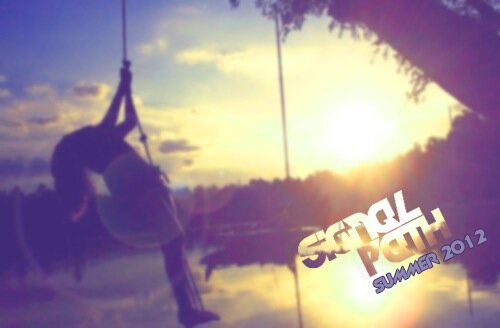 Wed 6/13/12 - 
Kilby Court
- Salt Lake City, UT
Fri 6/15/12 - 
1015 Folsom
- San Francisco, CA
Sat 6/16/12 -
- Belden, CA
Fri 7/20/12 -
Underground Music Showcase (UMS)
 - Denver, CO
Sat 7/28/12 -
- Hartsel, CO
Sat 8/11/12 -
Bohemian Nights Festival
- Ft. Collins, CO

Wed 8/15/12 -
Burbon Theater
- Lincoln, NE

Thu 8/16/12 -
- Indianapolis, IN
Fri 8/17/12 -
Rootwire Festival
- Logan, OH
Sat 8/18/12 - 
- Davenport IA
Sat 9/01/12 -
- Georgetown, CO

***Visit the
Tour Page
for more info***
Release Party May 25th
May/09/2012
SP Release Party


Fri 5/25/12 - Bluebird Theater - Denver, CO

w/ Love & Light


Summer Tour Announced May 30th!
Stay Tuned…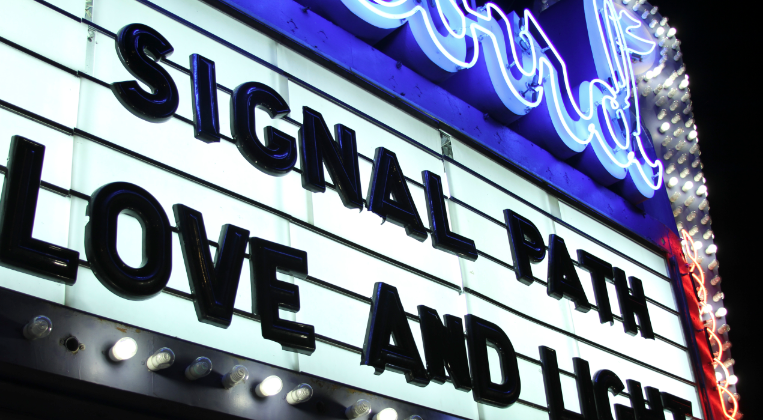 MIXTAEP OUT NOW | RELEASE PARTY MAY 25TH IN DENVER!
Apr/20/2012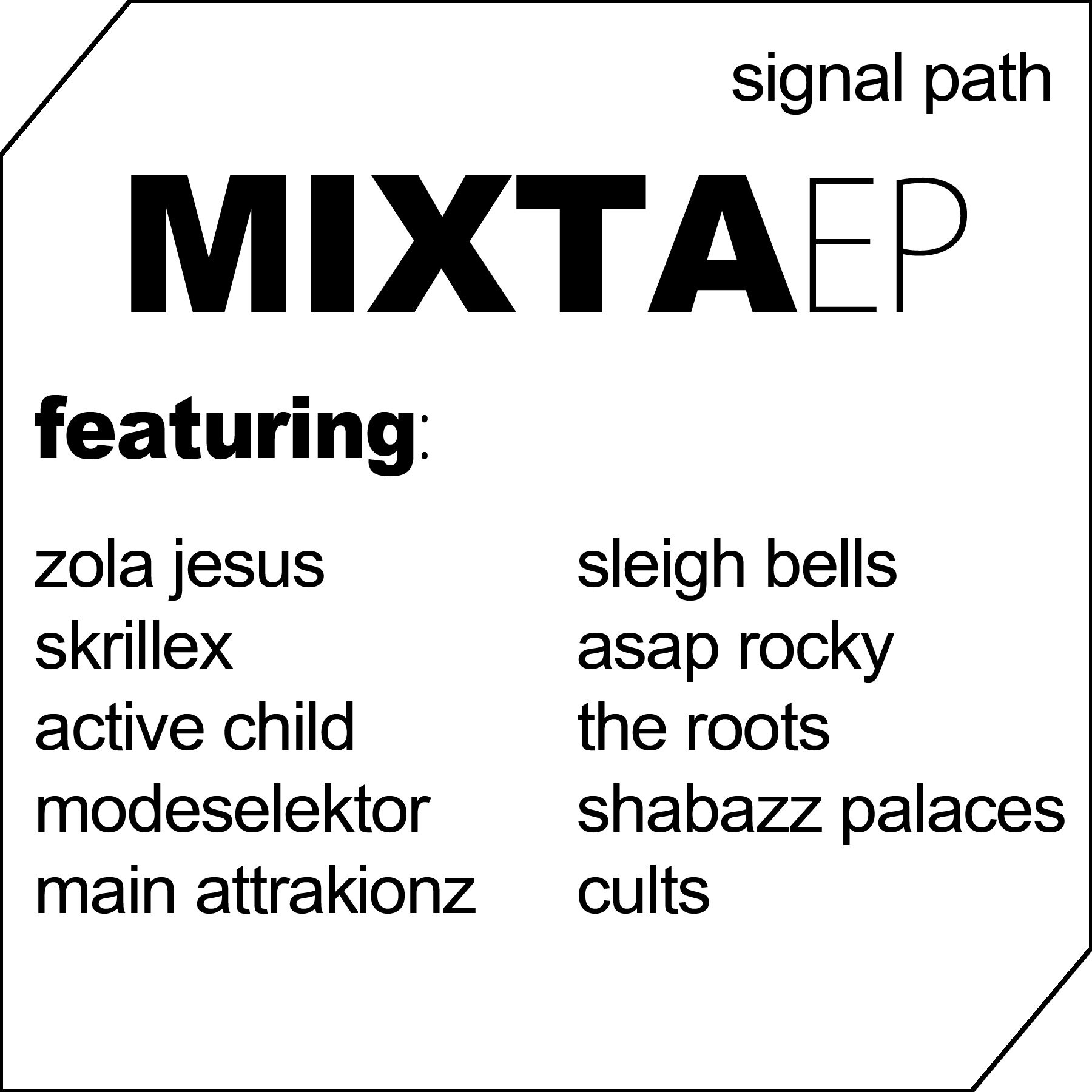 Hey Gang, We are pleased to finally be dropping our much anticipated MixtaEP. After a year packed full of original releases we decided to mess around with some of our favorite artists tunes and bend it, mash it, and hack it to our hearts desire. The outcome is wonderful and different like nothing we've released before....just check it our for yourself. Its free. Right
HERE
. Don't forget to come see us LIVE in full force in Denver Colorado on May 25th at the Bluebird Theater! California's Love and Light play a full set right before us! Buy your tickets today!
Signal Path + Love and Light performing at the Bluebird Theater MAY 25th!
Mar/22/2012
Grassroots California
&
Swaager.com
Present...

Fri, May 25
@
Bluebird Theater
ON SALE SATURDAY, MARCH 24TH 10am
Doors open: 8:00 PM
Ages: 16 & Over
Advanced Ticket Prices*: $15.00 / Day of Show*: $18.00
***Early Bird Ticket $10.00 This Weekend Only!

Tickets & Info: 
CLICK HERE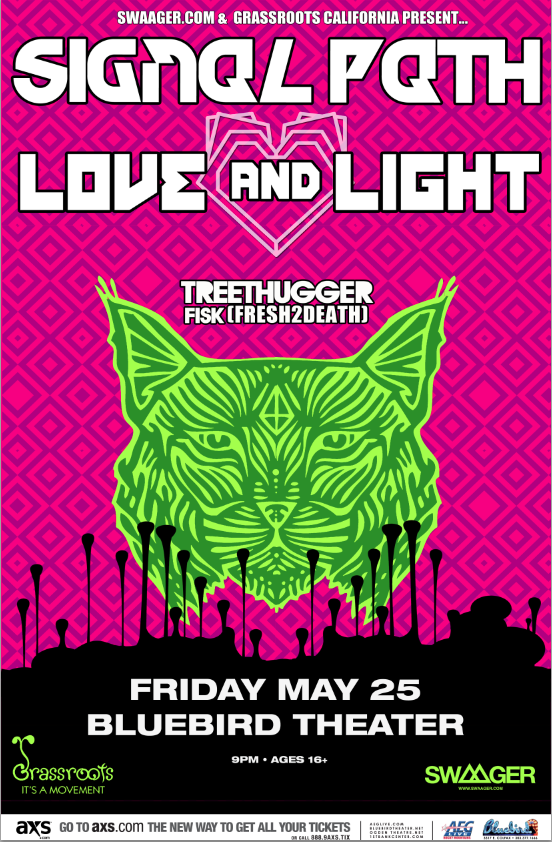 Signal Path Southeast Tour Announced
Mar/21/2012

We are very excited to be announcing our return to the beautiful Southeast region. With stops along the way in Louisville Kentucky, Knoxville Tennessee, Nashville, Atlanta, Athens and more. Check out our
tour
page for the full scoop. Hope to see you at a show and in the meantime pick up some Signal Path merch
here!
Thank you for your support!
-Signal Path
Doomtree + Signal Path
Mar/12/2012

SIGNAL PATH will be playing a very limited string of COLORADO shows with hip hop's DOOMTREE.
Check out the dates below:


Wednesday March 21- The Black Sheep Colorado Springs, CO
Thursday March 22- Aggie Theatre Ft. Collins, CO
Friday March 23- Tap House Steamboat, CO
Saturday March 24- Three20South Breckenridge, CO
Monday March 26- Belly Up Aspen, CO
Tuesday March 27- Abbey Theatre Durango, CO

Signal Path + SXSW
Mar/12/2012
Signal Path is pleased to announce 2 very special performances at this years sxsw music festival in Austin, TX.

March 15th @
March 16th @ Speakeasy Kabaret. (official sxsw)


BRAND NEW Single from Signal Path's mixtaep out NOW
Mar/12/2012


Pasted Graphic
Welcome
Mar/07/2012
Hi everyone. Thanks for visiting our new website. Check back often to stay informed on upcoming shows, free music, and updates. We have a pretty awesome spring lined up for you and some amazing new music. Hope to see you soon!